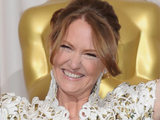 Melissa Leo has joined the cast of the upcoming futuristic thriller Oblivion, it has been reported.
The film centers on a veteran soldier sent to a distant planet where he must destroy an alien race, who begins to question the morality of his mission. It stars Tom Cruise, Morgan Freeman and Andrea Riseborough.
Deadline reports that Leo has joined the movie, which is already filming in Baton Rouge. It is unknown what role she will be playing.
The 51-year-old actress will be seen next opposite Denzel Washington in the thriller Flight.
She is also currently filming the third season of the hit HBO drama Treme.
Leo won a 'Best Supporting Actress' Oscar award for her work in the 2010 drama The Fighter, in which she starred alongside Mark Wahlberg and Christian Bale.