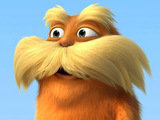 Dr Seuss' The Lorax has won the US box office for the second week running, topping the chart with a $39 milionweekend gross.
Its opening weekend claimed $70.7 million, taking the total gross up to $121.9 million.
The animated movie, featuring the voices of Taylor Swift and Zac Efron, managed to beat off competition from Disney's new offering John Carter, which debuted with only $30.6 million.
Based on Tarzan creator Edgar Rice Burroughs's tales of the adventurer, $250 million was spent on the film.
Other new entries came in the form of horror motion picture Silent House, starring Elizabeth Olsen, and comedy A Thousand Words, starring Eddie Murphy.
Olsen's feature raked in $7 million, claiming the fourth position, and Murphy's tale, based around a Bodhi tree, earned $6.35 million, taking sixth place.
The US box office top ten in full (studio estimates):
1. (1) Dr. Seuss' The Lorax – $39,100,000
2. (-) John Carter – $30,603,000
3. (2) Project X – $20,775,000
4. (-) Silent House – $7,010,000
5. (3) Act of Valor – $7,000,000
6. (-) A Thousand Words – $6,350,000
7. (4) Safe House – $5,000,000
8. (7) The Vow – $4,000,000
9. (8) This Means War – $3,750,000
10. (6) Journey 2: The Mysterious Island – $3,685,000