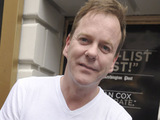 Columbia Pictures is reportedly working on a remake of 1990 supernatural drama Flatliners.
According to The Hollywood Reporter, the studio has tasked Source Code writer Ben Ripley to pen a script for the remake.
Veteran producer Laurence Mark, who produced 2007 crime film The Lookout, is also on board the project.
The original Flatliners was directed by Joel Schumacher and received positive reviews as well as an Academy Award for 'Best Sound Editing'.
The film starred Julia Roberts and Kiefer Sutherland opposite the likes of Kevin Bacon, William Baldwin and Oliver Platt.
Flatliners tells the story of a group of medical students who induce near-death experiences in themselves to discover whether there is an afterlife.