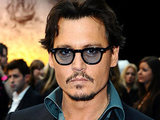 Johnny Depp has bought the film rights to Sam Sarkar's comic miniseries The Vault.
The actor will develop the project for the big screen with The Departed producer Graham King, according to The Hollywood Reporter.
The Vault is a three-part sci-fi-horror published by Image Comics. The story follows a group of divers who unleash an ancient evil when they an uncover a sunken sarcophagus on a mission off the coast of Nova Scotia.
Depp has previously collaborated with King on The Tourist, Rango and his upcoming movie The Rum Diary.
The Vault #1 arrived in stores earlier this month. The comic sold out at distribution level, and is due for release in digital on August 10.
A potential release window for The Vault is yet to be announced.