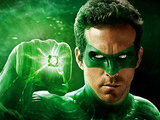 Green Lantern director Martin Campbell has said that he was initially reluctant to use 3D technology in the DC Comics adaptation.
Campbell revealed that he was concerned that it might detract from the film rather than adding to it, and added that he personally dislikes most 3D films.
"There was little talk of 3D when we started," he told Total Film recently. "It does nothing for me."
Campbell said that despite admiring James Cameron for his clever use of 3D in the 2010 box office hit Avatar, films like Clash of the Titans made him realise how damaging the technology can be to an audience's experience.
"I enjoyed Avatar and I thought it was so beautifully done, but Cameron's a genius with that stuff," he explained. "But just go and see Clash of the Titans and that will give you a headache for a start."
The director also commented that 3D can often simply be an easy way for studios to justify selling cinema tickets at higher prices, and believes that it will just be a fad.
"The problem is that finally the audience will wake up and realise that perhaps the quality of the 3D bang for their buck doesn't work out," he added.
Green Lantern will be released in US and UK cinemas in 3D on June 17.