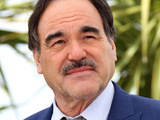 Oliver Stone has insisted that Charlie Sheen was perfect for his role in the hit 1986 film Platoon.
Talking to Entertainment Weekly upon the film's 25th anniversary, the director admitted that while Sheen has changed dramatically over the years, he is still fond of the former Two and a Half Men actor's performance in the Vietnam war movie.
"Charlie was a dumb-struck 17-year-old the first time he came in for the film, back when we were going to make it in '84," Stone recalled.
"And in those two years, he'd grown and seemed perfectly wide-eyed and had a vaguely privileged look. I think he did a great job. He was perfect for the movie. He conveys the horror of the place. I like his performance."
Stone went on to confess that he is unsure what to make of Sheen's recent troubles, adding: "Well, it's not the Charlie I recognise from several years ago when we did Wall Street and Platoon. This is another character. He's grown in many different directions and he's made so much money… I have no idea."
Stone was recently confirmed to be developing a new drama series with the FX network which will focus on people who make up fake news stories to help their clients.
He previously revealed that he enjoys making films about "underdogs" and "tortured" individuals.