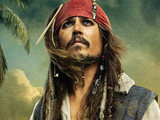 Pirates of the Caribbean: On Stranger Tides topped the US box office this weekend, taking an estimated $90.1 million.
The Johnny Depp-led action film scored the highest opening weekend of the year so far, ahead of the $83.6 million taken by Fast Five earlier this month.
Last week's new entry Bridesmaids took an impressive $21.1 million for its second weekend, followed by former box-office topper Thor with $15.5 million.
Fast Five follows in fourth place with $10.6 million, while the family animation Rio rounds out the top five with $4.6 million.
This week's US box office top ten in full (studio estimates):
1. (-) Pirates of the Caribbean: On Stranger Tides – $90,100,000
2. (2) Bridesmaids – $21,100,000
3. (1) Thor – $15,500,000
4. (3) Fast Five – $10,630,000
5. (5) Rio – $4,650,000
6. (4) Priest – $4,600,000
7. (6) Jumping the Broom – $3,700,000
8. (7) Somethng Borrowed – $3,425,000
9. (8) Water for Elephants – $2,150,000
10. (9) Madea's Big Happy Family – $990,000