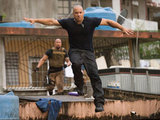 The latest entry in the long-running The Fast & The Furious franchise has topped the US box office in its opening weekend, becoming the highest April debut ever in the process.
Fast Five took an estimated $83.6 million, putting it firmly in first place ahead of last week's box office topper Rio, which took $14.4 million.
The record-breaking opening of Fast Five makes it the highest debuting entry in the franchise so far, and Universal's biggest debut of all time.
Madea's Big Happy Family falls to third place this weekend taking $10 million, while the Robert Pattinson-led romantic drama Water for Elephants took $9.1 million.
Rounding out the top five films this weekend is Disney's teen film Prom, which opened to only $5 million.

This week's US box office top ten in full (studio estimates):
1. (-) Fast Five – $83,600,000
2. (1) Rio – $14,400,000
3. (2) Tyler Perry's Madea's Big Happy Family – $10,050,000
4. (3) Water for Elephants – $9,125,000
5. (-) Prom – $5,000,000
6. (-) Hoodwinked Too! – $4,100,000
7. (7) Soul Surfer – $3,300,000
8. (9) Insidious – $2,680,000
9. (4) Hop – $2,550,000
10. (10) Source Code – $2,530,000