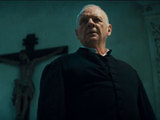 Anthony Hopkins' new supernatural thriller The Rite has topped the US box office in its opening weekend.
The film, which has received overwhelmingly negative critical reviews, took a lukewarm $15 million, beating last week's box office topper No Strings Attached, which took $13.7 million.
Jason Statham's latest action film The Mechanic entered in third place, taking $11.5 million, followed by the Seth Rogen superhero comedy The Green Hornet with $11.5 million.
The King's Speech rides off the success of 12 Academy Award nominations to stay in fifth place, taking $11.1 million.
This week's US box office top ten in full:
1. (-) The Rite – $15,000,000
2. (1) No Strings Attached – $13,700,000
3. (-) The Mechanic – $11,500,000
4. (2) The Green Hornet – $11,500,000
5. (4) The King's Speech- $11,100,000
6. (5) True Grit – $7,600,000
7. (3) The Dilemma – $5,470,000
8. (6) Black Swan – $5,100,000
9. (7) The Fighter – $4,055,000
10. (9) Yogi Bear – $3,165,000