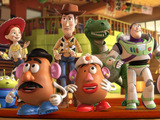 Toy Story 3 has been named as the world's highest-grossing movie of the year after raking in $1.05bn (£682m).
The Guardian reports that the final part of Pixar's animated adventure series is just ahead of Disney's Alice in Wonderland, which grossed $1.02bn (£661m).
In third place is Harry Potter and the Deathly Hallows: Part 1, which made $831m (£538m) despite only being in cinemas for six weeks, while director Christopher Nolan's critically-acclaimed Inception is at four with $825m (£534m).
The rest of the top ten are Shrek Forever After ($737m / £477m), Twilight: Eclipse ($693m / £449m), Iron Man 2 ($622m / £403m), Despicable Me ($539m / £349m), Clash of the Titans ($493m / £319m) and How to Train Your Dragon ($493m / £319m).