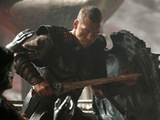 Clash Of The Titans has debuted at the top of the US box office with $61.4 million over the holiday weekend.
Tyler Perry's Why Did I Get Married Too?, starring Janet Jackson, debuted at number two with $30.1 million and Miley Cyrus's The Last Song premiered at number four with $16.2 million.
Tim Burton's Alice In Wonderland tumbles three places to number five with $8.2 million, having now surpassed the $300 million mark in its fifth week of release.
John Cusack's comedy Hot Tub Time Machine claims the number six position, followed by The Bounty Hunter and Diary Of A Wimpy Kid.
Finally, Shutter Island drops to number ten with $1.4 million.
The US box office top ten in full:
1. (-) Clash Of The Titans – $61,400,000
2. (-) Why Did I Get Married Too? – $30,150,000
3. (1) How To Train Your Dragon – $29,200,000
4. (-) The Last Song – $16,203,000
5. (2) Alice In Wonderland – $8,267,000
6. (3) Hot Tub Time Machine – $8,000,000
7. (4) The Bounty Hunter – $6,200,000
8. (5) Diary Of A Wimpy Kid – $5,525,000
9. (6) She's Out Of My League – $1,463,000
10. (8) Shutter Island $1,462,000