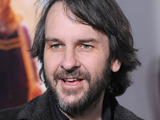 A selection of photographs published by a British magazine suggest that production of Peter Jackson's long-awaited adaptation of The Hobbit is now underway.
According to Coming Soon, photos have begun circling the internet from a film preview in Total Film magazine, depicting a construction of protagonist Bilbo Baggins's home Bag End.
The images indicate that work has now begun on reconstructing and redesigning a number of the film sets used for Jackson's epic Lord Of The Rings trilogy, in order to ensure that there is continuity between the films.
The Hobbit films are scheduled to begin filming in early 2011, with the first film expected to be released in December 2012.