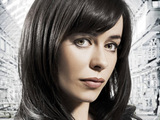 Eve Myles has revealed that she plans to move to Los Angeles when Torchwood: The New World begins filming in the US.
The star, who plays Gwen Cooper on the sci-fi series, told Wales On Sunday that she and partner Bradley Freegard have recently purchased a house near a famous LA landmark.
"We are going to be living in the Hollywood Hills, literally underneath the Hollywood sign. It looks like something out of Austin Powers," she said.
Myles continued: "It's a step back in time to Hollywood in the 1960s. It's really, really retro. It's had one owner and it's been kept exactly as it was."
The 2007 BAFTA Cymru 'Best Actress' winner admitted that the idea of moving to Hollywood is something that she hadn't prepared for until fairly recently.
She explained: "I always said I didn't think Hollywood was for me but it just happened. I'm not the sort of person to go out there and do networking. I would rather work for the RSC (Royal Shakespeare Company) or the National Theatre.
"I've not ticked off a quarter of the boxes I want to fill over here [in the UK] yet. But to be out there for this project is just wonderful. What a brilliant little start in life for [my 1-year-old daughter] Matilda."
Torchwood: The New World is to premiere next summer on BBC One in the UK and Starz in the US.