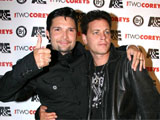 Director Richard Donner and the cast of the 1985 cult film The Goonies have claimed that a sequel will never happen.
The movie's cast had gathered together to celebrate its 25th anniversary, along with its DVD and Blu-ray releases, but were quick to deny the idea of reprising their roles.
"There have been talks for so many years and I know that a lot of us are for it," Jonathan Ke Quan, who played Data, explained to Collider. "But honestly, I don't think it's ever going to happen, if it was going to happen it would've happened many years ago."
Co-star Corey Feldman confirmed that although he had seen scripts for a potential sequel in the past, they never picked up any serious momentum.
"If Richard Donner was at the helm and Steven Spielberg got behind it, yeah I'd be there," Feldman, who played Mouth in the original, added. "But at this point I don't think it's going to happen because we're all getting too old."
Donner, who was also present at the press conference, confirmed that he would be worried about ruining the original if he attempted a sequel, and couldn't see himself being involved.