Community is scheduled to finally return to US screens in 2013.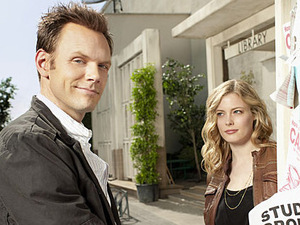 The cult sitcom was originally set to debut on October 19, before NBC announced that the premiere would be withheld so it could focus its promotional efforts on other debuting shows.
Now Community will be returning to Thursday nights on the network starting February 7, as part of NBC's brand new Thursday night line-up.
Star Joel McHale confirmed in a tweet: "Since there's no other news today here's some: #Community will premiere Thursday February 7th 8pm. #February7thIsOctober19th".
Community will air at 8pm, followed by Parks and Recreation, moved up an hour to 8.30pm. At 9pm is the final season of The Office, and at 9.30pm is new comedy 1600 Penn, from Modern Family director Jason Winer and starring Bill Pullman.
The fourth season of Community will be the first without showrunner Dan Harmon, who was fired by NBC after a tumultuous few months that included a highly-publicised feud with star Chevy Chase.
Replacement showrunners David Guarascio and Moses Port have assured fans that the comedy is in safe hands, telling an audience at Comic-Con: "We understand the show deeply, and we love it and want it to keep being the wonderful thing that it is. Like no other show, the fans influence what happens on the screen."