Usher has reportedly said that TV talent shows are ruining the music industry.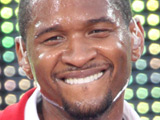 According to WENN, the singer criticised American Idol and other competition shows for turning talented singers into celebrities and then casting them aside.
The 31-year-old recently appeared as a mentor on Idol.
"The true art form of music is being lost, because it seems so easy that everyone can do it, and that it can happen overnight," Usher said.
He added: "Television is a lie. It can't happen overnight. The artist who thinks that it can just comes and goes. The reason why great singers cannot exist in this time is maybe because they're not properly managed, and maybe they don't understand the full gamut of what being an entertainer is."
Usher also claimed that the music industry is "surely dying" because record companies are "mass-producing these versions of these people; versions of this broken art".