Captain America's 1970s television outings are to be released on DVD.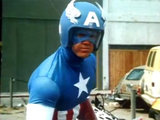 Shout! Factory has announced plans to release the TV movies Captain America and Captain America II: Death Too Soon as a double-feature set, Superhero Hype reports.
Captain America tells an alternate origin story for the Marvel Comics superhero, in which Steve Rogers is critically wounded in an accident, and injected with a life-saving superserum created by his father. It stars Reb Brown and Len Birman.
Captain America II: Death Too Soon sees Rogers square off against a terrorist named Miguel, who is played by Christopher Lee. Both movies aired on television in 1979.
The double-feature set has been slated for release one week before Marvel Studios' Captain America: The First Avenger arrives in DVD and Blu-ray in October.