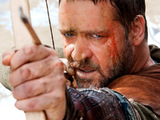 Robin Hood has knocked Iron Man 2 off the top of the UK box office.
Ridley Scott and Russell Crowe's big screen revival of the Sherwood Forest outlaw nets £5.7 million in ticket sales to shoot straight to the chart summit.
Iron Man 2 is in second spot with £1.5 million and closing in on a £20 million cumulative UK haul after three weeks on general release. A Nightmare On Elm Street retains third place, while Hot Tub Time Machine and Furry Vengeance round out the top five.
Elsewhere, Four Lions holds steady at number six after expanding its theatrical release and rom-com The Back-up Plan falls to seven.
The UK box office top ten in full:
1. (-) Robin Hood – £5,750,332
2. (1) Iron Man 2 – £1,595,612
3. (3) A Nightmare On Elm Street – £649,323
4. (4) Hot Tub Time Machine – £573,122
5. (2) Furry Vengeance – £548,440
6. (6) Four Lions – £496,649
7. (5) The Back-up Plan – £478,917
8. (7) How To Train Your Dragon – £254,638
9. (8) The Last Song – £181,489
10. (9) Date Night – £127,785