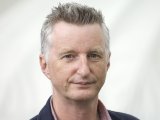 Billy Bragg has claimed that major record labels are the single biggest threat to music.
The singer-songwriter is a member of the Featured Artists Coalition and a long-standing critic of companies that pursue fans who illegally share music.
Quizzed on the biggest threat to music today, Bragg told The Guardian: "Major record labels, for persecuting young people who download music for free.
"What they don't understand is that they use downloads to sample stuff that they later buy. Can you see why I might not think it's a good thing to arrest people for listening to my songs?"
Asked if there was too little protest music today, he added: "Yes. Look at what's happening in the world: the credit crunch; our young people getting maimed in a war that nobody knows how to resolve.
"When I was first plying my trade, people were willing to talk about these issues. Now they'd rather write about getting blasted than changing the world."