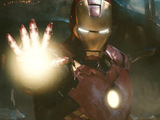 Iron Man 2 has held off competition from five new entries to top the UK box office for the second consecutive weekend.
The Robert Downey Jr-led superhero film pulls in £3.2 million to lead the chart ahead of family comedy Furry Vengeance and horror remake A Nightmare On Elm Street.
Jennifer Lopez's comeback vehicle The Back-up Plan lands at number five, while controversial comedy Four Lions performs well, taking in £600,000 to hit sixth spot. The feature directing debut from Brass Eye creator Chris Morris will expand into more venues this week after making a significant dent at the UK box office on just 115 screens.
Next week sees the release of Russell Crowe and Ridley Scott's Robin Hood, which is expected to challenge Iron Man at the chart summit.
The UK box office top ten in full:
1. (1) Iron Man 2 – £3,214,776
2. (-) Furry Vengeance – £1,778,050
3. (-) A Nightmare On Elm Street – £1,342,837
4. (-) Hot Tub Time Machine – £904,959
5. (-) The Back-up Plan – £710,201
6. (-) Four Lions – £608,608
7. (2) How To Train Your Dragon – £516,120
8. (4) The Last Song – £336,815
9. (3) Date Night – £336,345
10. (5) Clash Of The Titans – £291,352