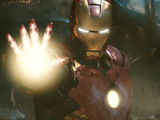 Iron Man 2 has debuted in first place at the UK box office.
The Robert Downey Jr-led blockbuster, based on the Marvel Comics superhero, pulls in £7.6 million over the weekend to easily claim the top spot ahead of How To Train Your Dragon. The total is £2 million up on the opening UK gross for Iron Man 2's 2008 predecessor.
The second Iron Man is one of a trio of new entries in the chart, the others being Miley Cyrus's The Last Song (number four), her first effort outside the Hannah Montana brand, and Bollywood picture Housefull (number ten).
Clash Of The Titans and Kick-Ass are the biggest fallers, sliding to numbers five and eight respectively, while Roman Polanski's The Ghost continues to perform strongly in the UK. The political thriller loses less than £100,000 in box office takings from last week to secure seventh spot.
The top ten UK movies in full:
1. (-) Iron Man 2 – £7,664,732
2. (3) How To Train Your Dragon – £843,663
3. (1) Date Night – £783,393
4. (-) The Last Song – £679,698
5. (2) Clash Of The Titans – £659,005
6. (4) Dear John – £608,637
7. (6) The Ghost – £548,270
8. (5) Kick-Ass – £402,864
9. (8) Nanny McPhee And The Big Bang – £388,832
10. (-) Housefull – £262,752