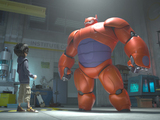 Big Hero 6 has topped the UK box office for the second consecutive weekend.
The Disney animation, inspired by characters appearing in Marvel Comics, took its running total in the UK to £7.4 million after two weeks on release.
In second place is Kingsman: The Secret Service with a strong showing of just over £2 million, with Shaun the Sheep The Movie charting close behind at number three.
New release Jupiter Ascending is at number four ahead of American Sniper.
Elsewhere, the chart also sees new entries for Oscar-nominated Civil Rights drama Selma at number six and controversial comedy The Interview. The latter's belated UK debut saw it net just £283,811 to enter at number ten.
The UK box office top ten in full:
1. (1) Big Hero 6 – £2,540,116
2. (2) Kingsman: The Secret Service – £2,190,090
3. (-) Shaun the Sheep Movie – £2,095,061
4. (-) Jupiter Ascending – £1,349,938
5. (3) American Sniper – £980,434
6. (-) Selma – £792,365
7. (4) The Theory of Everything – £626,335
8. (6) Into the Woods – £326,355
9. (5) Taken 3 – £323,346
10. (-) The Interview – £283,811
Source: Rentrak
This box-office news can be discussed here