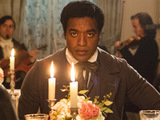 12 Years a Slave has topped the UK box office on its debut weekend on release in cinemas.
Steve McQueen's slavery drama, starring Chiwetel Ejiofor and Michael Fassbender, earned £2.5 million to hold off competition from American Hustle and secure first place.
The Hobbit: The Desolation of Smaug slipped to number three on its fifth week on general release, while Frozen and Last Vegas sit at numbers four and five respectively.
Elsewhere, the only new releases to crack the top ten were The Railway Man at number six with £1.2 million and Vince Vaughn's latest comedy Delivery Man, which debuted at number seven with £1.1 million.
This week sees the release of Martin Scorsese and Leonardo DiCaprio's The Wolf of Wall Street and horror movie Devil's Due, with both movies expected to make an impact on the chart.
The UK box office top ten in full:
1. (-) 12 Years a Slave – £2,511,349
2. (1) American Hustle – £1,938,805
3. (2) The Hobbit: The Desolation of Smaug – £1,504,554
4. (3) Frozen – £1,314,153
5. (4) Last Vegas – £1,293,299
6. (-) The Railway Man – £1,230,483
7. (-) Delivery Man – £1,102,433
8. (7) Mandela: Long Walk to Freedom – £783,624
9. (6) Anchorman 2: The Legend Continues – £755,719
10. (5) Paranormal Activity: The Marked Ones – £502,235
Source: Rentrak