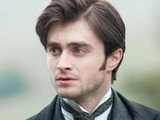 Daniel Radcliffe's The Woman in Black has topped the UK box office with £3.5 million in ticket sales.
The supernatural horror, from British studio Hammer, holds off competition from The Muppets for the second consecutive weekend to emerge as the UK's number one movie.
Nicolas Cage's comic book sequel Ghost Rider: Spirit of Vengeance is the only new release to trouble the top ten, debuting in third place with £1.3 million.
Star Wars prequel The Phantom Menace falls to number four, while Journey 2: The Mysterious Island completes the top five.
With schools on holiday for half-term last week (February 13 to February 17), the box office saw a rise in business with Woman in Black, The Muppets and Journey 2 all increasing their takings from the previous week.
However, the Oscar-tipped silent movie The Artist saw the biggest leap in business as it boosted tickets sales by a huge 102% from the previous week to re-enter the top 10. Michel Hazanavicius's film has now earned more than £6.8 million after nine weeks on release.
The UK box office top ten in full:
1. (1) The Woman in Black – £3,501,601
2. (2) The Muppets – £3,411,698
3. (-) Ghost Rider: Spirit of Vengeance – £1,340,000
4. (3) Star Wars: Episode I – The Phantom Menace – £1,077,302
5. (6) Journey 2: The Mysterious Island – £1,061,550
6. (4) The Vow – £953,165
7. (5) Chronicle – £727,871
8. (7) The Descendants – £564,536
9. (11) The Artist – £527,358
10. (8) War Horse – £450,073