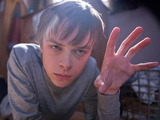 Chronicle has topped the UK box office on its debut weekend on release.
The found footage superhero movie, which centres on three teens gifted with extraordinary powers, pulls in more than £2 million at UK cinemas to emerge as the number one movie ahead of Dwayne Johnson's Journey 2: The Mysterious Island.
George Clooney's The Descendants drops a spot to number three, while War Horse's three-week reign at the chart summit comes to an end as it slips down to number four.
Adam Sandler's latest comedy Jack and Jill is a new entry at number five.
Elsewhere, the top ten also saw debuts from Man on a Ledge, a heist thriller starring Sam Worthington, and Roman Polanski's all-star ensemble Carnage.

The UK box office top ten in full:
1. (-) Chronicle – £2,193,072
2. (-) Journey 2: The Mysterious Island – £1,200,587
3. (2) The Descendants – £1,112,964
4. (1) War Horse – £889,687
5. (-) Jack and Jill – £848,814
6. (-) Man on a Ledge – £697,394
7. (3) The Grey – £521,188
8. (4) A Monster in Paris – £474,941
9. (5) The Artist – £377,889
10. (-) Carnage – £298,733