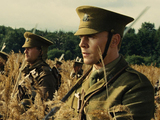 Steven Spielberg's War Horse has spent its third week at the top of the UK box office.
The World War I drama, which stars Jeremy Irvine and Benedict Cumberbatch, holds off strong competition from three new releases to secure first place.
George Clooney's The Descendants, Liam Neeson's The Grey and animated movie A Monster in Paris all debuted last week, but none were able to topple Spielberg's latest film.
The Artist, fresh from picking up 10 Academy Award nominations, climbs up three places to number five. The black and white silent movie has now grossed more than £4 million in the UK.
Elsewhere, Underworld: Awakening is the sharpest faller as it tumbles down four places to seven.
The UK box office top ten in full:
1. (1) War Horse – £2,081,490
2. (-) The Descendants – £1,797,939
3. (-) The Grey – £1,094,338
4. (-) A Monster in Paris – £1,043,531
5. (8) The Artist – £704,348
6. (4) Sherlock Holmes: A Game of Shadows – £655,144
7. (3) Underworld: Awakening – £627,846
8. (5) The Iron Lady – £567,397
9. (6) The Sitter – £554,568
10. (7) Mission: Impossible – Ghost Protocol – £529,462