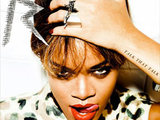 Rihanna has beaten One Direction to the top of the UK album chart with her sixth studio LP Talk That Talk.
The Bajan star achieved her third number one in the country after shifting over 160,000 copies of her latest opus in its first week.
Rihanna also become the first ever female to score the chart double twice in one year with different releases after Talk That Talk's lead track 'We Found Love' topped the singles chart for a sixth week.
One Direction instead settle for second with their debut album Up All Night, but still post an impressive sales figure of 138,000 copies.
Outgoing chart-topper Michael Bublé slips to three with Christmas, while new entries Greatest Hits by Westlife and 50 Words For Snow by Kate Bush complete the top five.
JLS are pushed from the runner-up spot to six with Jukebox, Coldplay lose three places with Mylo Xyloto at seven and Nickelback score their fifth UK album chart Top 10 with Here And Now at ten.
The Top 10 in full:
1. (-) Rihanna: 'Talk That Talk'
2. (-) One Direction: 'Up All Night'
3. (1) Michael Bublé: 'Christmas'
4. (-) Westlife: 'Greatest Hits'
5. (-) Kate Bush: '50 Words For Snow'
6. (2) JLS: 'Jukebox'
7. (4) Coldplay: 'Mylo Xyloto'
8. (7) Ed Sheeran: '+'
9. (8) Adele: '21'
10. (-) Nickelback: 'Here And Now'
Fallen Empires by Snow Patrol and Susan Boyle's Someone To Watch Over Me take big hits following the slew of new entries in the best-sellers, slipping eight and six respectively to 11 and 12. Florence + The Machine's sophomore record Ceremonials also falls, landing at 14 from last week's nine.
The biggest loss of the Top 20, though, belongs to Drake, who crashes 15 places from last week's five with Take Care. Meanwhile, Cher Lloyd's first album Sticks + Stones enters the lower half of the chart in just its third week of release after falling from 12 to 22.
Elsewhere, The Saturdays make a disappointing debut at 23 with their third studio album On Your Radar, Seal is a new entry at 23 with Soul 2 and James Morrison's The Awakening rises six to 26 in its ninth week.
Source: Official Charts Company