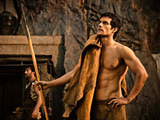 Henry Cavill's 3D epic Immortals has held off strong competition from Arthur Christmas to take the UK box office top spot.
The Superman: Man of Steel star's new movie, which centres on a war between Cavill's Theseus and Mickey Rourke's King Hyperion, takes in £2,166,432 to hold off competition from Aardman's festive family film.
Arthur Christmas is just a fraction behind the box office victor, with £2,112,516 in ticket sales.
Last week's number one movie The Adventures of Tintin is at number three, while In Time and Tower Heist complete the top five.
Johnny Depp's The Rum Diary is a new entry at number six with takings of £608,055 on its debut weekend on release.
The UK box office top ten in full:
1. (-) Immortals – £2,166,432
2. (-) Arthur Christmas – £2,122,516
3. (1) The Adventures of Tintin: The Secret of the Unicorn – £1,540,539
4. (2) In Time – £915,584
5. (3) Tower Heist – £825,783
6. (-) The Rum Diary – £608,044
7. (4) Johnny English Reborn – £506,200
8. (6) The Help – £378,521
9. (5) Paranormal Activity 3 – £339,245
10. (8) The Ides of March – £284,076