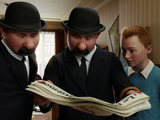 The Adventures of Tintin has topped the UK box office on its debut week on release.
Steven Spielberg's 3D animated movie, starring Jamie Bell, Andy Serkis, Simon Pegg, Nick Frost and Daniel Craig, pulls in an impressive £6.7 million to beat Paranormal Activity 3 to the top spot.
Johnny English Reborn, Contagion and The Lion King 3D take the next three positions respectively.
Ra.One, the latest movie from Bollywood superstar Shah Rukh Khan, is the chart's second highest new entry at number six.
The big-budget action epic lands above Emma Stone's US hit The Help and George Clooney and Ryan Gosling's political thriller The Ides of March.
The UK box office top ten in full:
1. (-) The Adventures of Tintin: The Secret of the Unicorn – £6,758,724
2. (1) Paranormal Activity 3 – £1,843,816
3. (2) Johnny English Reborn – £1,787,451
4. (3) Contagion – £1,051,348
5. (4) The Lion King 3D – £1,011,060
6. (-) Ra.One – £908,768
7. (-) The Help – £896,597
8. (-) The Ides of March – £665,387
9. (5) Real Steel – £508,604
10. (9) Dolphin Tale – £295,641