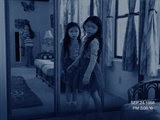 Paranormal Activity 3 has secured the top spot at the UK box office, taking in more than £3 million on its opening weekend.
The horror sequel holds off competition from Johnny English Reborn and new release Contagion to emerge as the number one movie among UK audiences.
Paranormal Activity 3's total is marginally less than franchise starter Paranormal Activity, which bowed to £3,593,762 to finish runner-up to Twilight: New Moon in 2009. Sequel Paranormal Activity 2 earned £3.7 million in October 2010.
The Lion King 3D falls two places to number four, while Real Steel completes the top five.
Elsewhere, Tilda Swinton drama We Need to Talk About Kevin bows at number seven with close to £500,000 in ticket sales.
The UK box office top ten in full:
1. (-) Paranormal Activity 3 – £3,405,036
2. (1) Johnny English Reborn – £2,052,062
3. (-) Contagion – £1,463,638
4. (2) The Lion King 3D – £1,356,217
5. (4) Real Steel – £842,597
6. (3) The Three Musketeers 3D – £585,506
7. (-) We Need To Talk About Kevin – £492,297
8. (5) Tinker Tailor Soldier Spy – £394,605
9. (7) Dolphin Tale – £364,921
10. (6) Footloose – £270,794