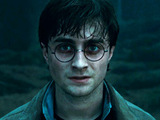 Harry Potter and the Deathly Hallows: Part 2 has held off competition from Captain America: The First Avenger to claim first place at the UK box office.
The Potter finale's £4.5 million haul secures it the top spot for the third consecutive weekend. Captain America, which leads into next year's Marvel team-up The Avengers, nets a £2.9 million opening in second.
The figure falls short of the totals for this year's earlier Marvel movies Thor and X-Men: First Class. Both blockbusters debuted to £5.4 million.
Deathly Hallows: Part 2 has now grossed £55 million in the UK, making it the most successful release of 2011 so far.
Pixar's Cars 2 is at number three, while comedy Horrible Bosses is at number four. New release Horrid Henry: The Movie rounds out the top five.
Elsewhere, Kevin James's Zookeeper debuts at number six and The Guard continues its impressive box-office run, charting at number nine on the back of Irish ticket sales alone.
The UK box office top ten in full:
1. (1) Harry Potter and the Deathly Hallows: Part 2 – £4,567,581
2. (-) Captain America: The First Avenger – £2,981,590
3. (2) Cars 2 – £1,870,677
4. (3) Horrible Bosses – £1,411,725
5. (-) Horrid Henry: The Movie – £1,290,308
6. (-) Zookeeper – £936,063
7. (4) Bridesmaids – £732,049
8. (5) Transformers: Dark of the Moon – £406,427
9. (7) The Guard – £202,031
10. (8) Beginners – £100,334