Homebase sold for £1 as DIY disaster ends for Wesfarmers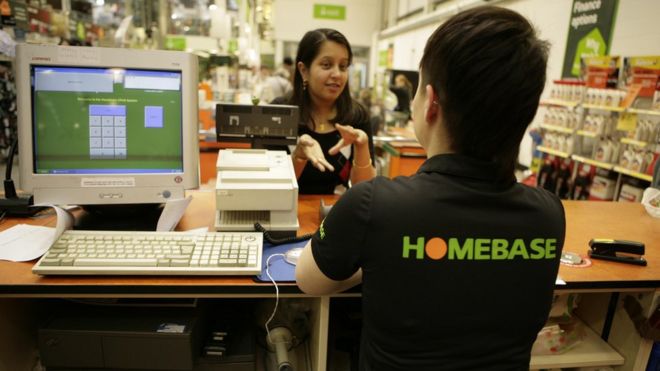 The Australian owner of Homebase has sold the DIY chain for £1, ending its disastrous foray into the UK.
Wesfarmers paid £340m for the retailer two years ago, but losses and other costs will bring its total bill to about £1bn.
The chain is being bought by restructuring specialist Hilco, which rescued music chain HMV in 2013.
The 24 stores that had been converted to the Bunnings brand will revert to the Homebase name.
Richard Lim, of consultancy Retail Economics, said the Wesfarmers takeover had been an "unbelievable disaster" due to "woeful management decisions, clumsy execution and a misguided perception of the UK market".
He expected the restructuring would result in store closures and more job losses on the High Street. Homebase has about 250 stores and 11,500 workers.
Dave Gill, national officer at shopworkers' trade union Usdaw, said: "Staff in Homebase stores are extremely worried for the future after company's ownership changes hands yet again.
"Clearly the sale for just one pound is very disturbing. I am in touch with the company and we are seeking urgent meetings to secure jobs."
Analysis: Emma Simpson, BBC business correspondent
This must go down as one of the most disastrous retail acquisitions ever - a textbook example of how not to do it.
The Australian firm thought they could show the Brits how to do DIY. So confident, they immediately sacked Homebase's senior management team. That was a huge mistake.
They then began to strip out the soft furnishings that were popular at Homebase. Instead, Bunnings opted for no frills DIY sheds.
But it failed to understand the UK market and the losses soon started to mount. Deteriorating economic conditions certainly didn't help.
The few stores that were trading as Bunnings will convert back to the Homebase brand as this company makes an ignominious retreat. The new owners will need to act fast to stem the losses across the Homebase business, which will inevitably mean store closures and job losses ahead.