After Earth has topped the UK box office charts following its opening weekend.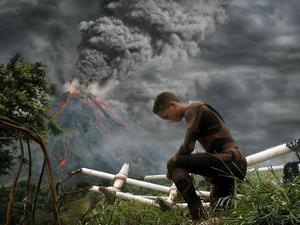 M Night Shyamalan's sci-fi, which stars Will Smith as a father who sends his son (Jaden Smith) on a dangerous mission across a hostile post-apocalyptic Earth, pulled in £2.2 million, easily outstripping The Hangover Part III's third week haul of £1.1 million.
Steven Soderbergh's Liberace biopic Behind the Candelabra was the next highest new entry, debuting at number eight with a weekend total of £513, 288.
Shane Meadows' documentary The Stone Roses: Made of Stone and Michael Shannon thriller The Iceman debuted at ninth and tenth position respectively.
Fast & Furious 6 and Epic both fell one place, while The Great Gatsby overtook Star Trek Into Darkness to claim fifth place after a month on release.
1. (-) After Earth - £2,249,532
2. (1) The Hangover Part III - £1,145,249
3. (2) Fast & Furious 6 - £846,541
4. (3) Epic - £665,456
5. (5) The Great Gatsby - £658,225
6. (4) Star Trek Into Darkness - £616,662
7. (6) The Purge - £541,859
8. (-) Behind the Candelabra - £513,288
9. (-) The Stone Roses: Made of Stone - £367,319
10. (-) The Iceman - £201,789
Source: Rentrak